Noctua Introduces Compact, Quiet Coolers for AMD's AM5-based Ryzen Processors
January 24, 2023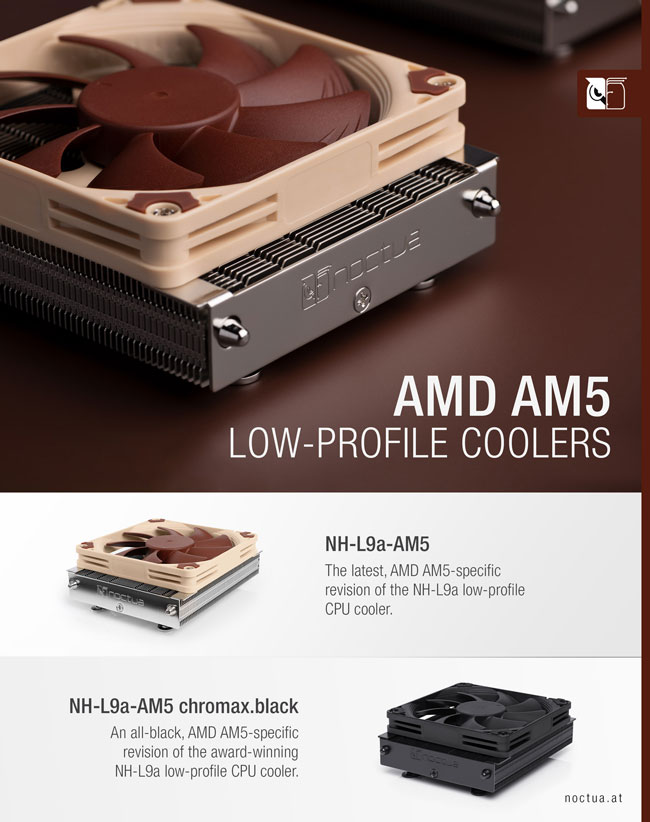 Noctua, the well-known manufacturer of high-quality PC cooling solutions, has just unveiled the latest addition to its successful NH-L9 series of low-profile CPU coolers. The new coolers, the NH-L9a-AM5 and NH-L9a-AM5 chromax.black, are specifically designed for quiet and ultra-compact systems using AMD's latest, AM5-based Ryzen processors.
The new coolers stand at a height of only 37mm, making them an excellent choice for small form factor (SFF) systems and home theater PCs (HTPCs). They are perfect for users looking to build powerful yet compact systems, as they can easily cool the new 65W Ryzen CPUs, such as the 7900, 7700, and 7600, at ultra-quiet fan speeds. Additionally, they offer plenty of headroom for users looking to push their CPUs beyond 65W, as Noctua has been able to run up to 130W on the Ryzen 7950X and 7900X with these coolers.
The NH-L9a-AM5 coolers build on the same proven heatsink design as the original NH-L9a coolers for AM3 and AM4, which have received over 100 awards and recommendations from international hardware websites and magazines. This means that users can expect excellent low-profile cooling performance for AMD's latest Ryzen processors.
The coolers have a small footprint and are 100% compatible with RAM and PCIe, as well as providing easy access to near-socket connectors even on tightly packed mini-ITX motherboards. This makes them ideal for extremely slim cases, where space is at a premium. The custom-designed SecuFirm2™ mounting system for the AM5 socket makes installation a breeze, and thanks to the highly optimized NF-A9x14 92mm fan that supports fully automatic speed control via PWM, the NH-L9a-AM5 runs remarkably quietly.
The chromax.black version of the cooler features a black fan and black coated heatsink, which gives it a sleek stealth look. It combines the cooling performance and compatibility of the standard version with a stylish design that is perfect for users looking to build a compact system with a sleek aesthetic.
Topped off with Noctua's renowned NT-H1 thermal compound, the NH-L9a-AM5 and NH-L9a-AM5 chromax.black combine everything users have come to expect from Noctua's larger coolers into a super-compact, premium-quality package for ITX and HTPC builds with AMD AM5 processors. For customers looking to further improve the performance of the cooler, an optional NA-FD1 fan duct kit is available. This kit allows for bridging the gap between the cooler and perforated side panels of small form factor cases, which can improve CPU temperatures by as much as 5°C or more, depending on the setup.
Overall, the new NH-L9a-AM5 and NH-L9a-AM5 chromax.black coolers from Noctua are an excellent choice for users looking to build quiet and ultra-compact systems using AMD's latest AM5-based Ryzen processors. They offer excellent cooling performance, compatibility, and easy installation, all in a compact and stylish package. If you're looking to build a powerful yet compact system, be sure to check out these coolers from Noctua.
Links
NH-L9a-AM5
NH-L9a-AM5 chromax.black
NA-FD1
Noctua Compatibility Centre (CPU, motherboard and case compatibility)
Suggested retail prices
The manufacturer's suggested retail prices are as follows:
NH-L9a-AM5: EUR 49.90 / USD 44.90
NH-L9a-AM5 chromax.black: EUR 59.90 / USD 54.90
Availability
Both new coolers are available as of today via Noctua's official Amazon stores:
Buy NH-L9a-AM5
Buy NH-L9a-AM5 chromax.black
Other sales partners will receive stock shortly.