Zoom B1X Four: An Intermediate-level Bassist's experience
October 13, 2023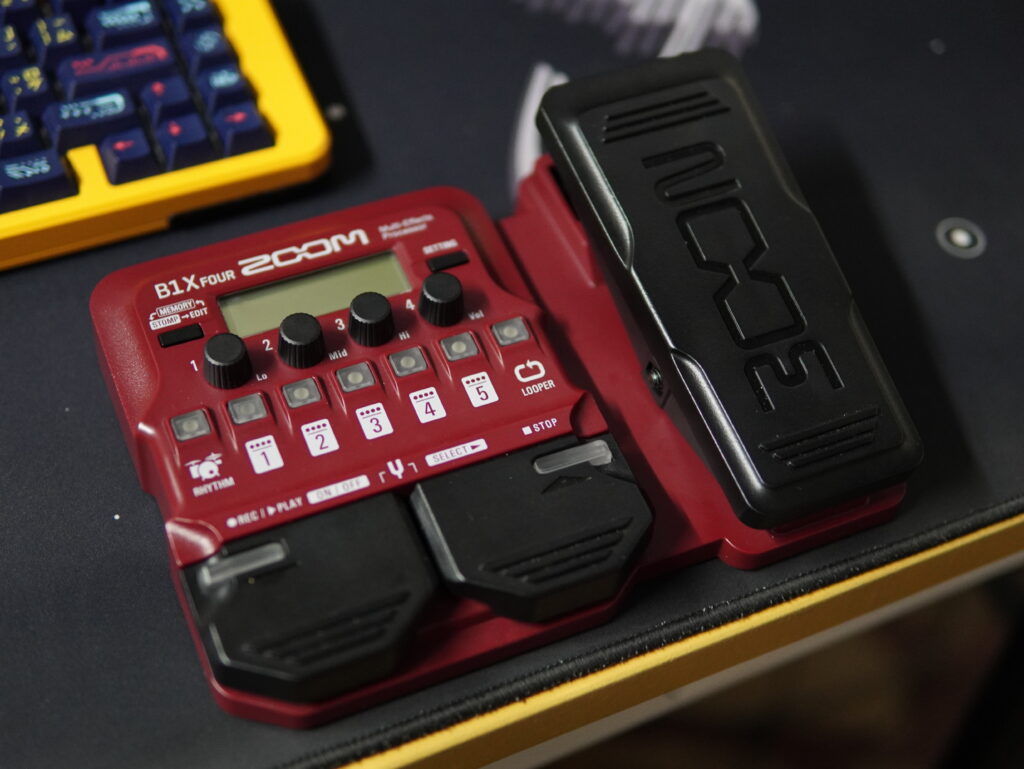 I'm an intermediate-level bass player who's been jamming for quite some time now. While I'm not currently in a band or playing gigs regularly, I used to be, and I still play bass as a passionate hobby. I recently got the Zoom B1X Four multi-effects pedal and have been exploring its features.
Why I Chose the Zoom B1X Four
Zoom is a brand I've had a positive experience with in the past, so it was a natural choice for me. Before making the purchase, I did my homework—watched demos, read reviews, and even studied the manual to manage my expectations. The B1X Four offers an overwhelming array of effects, amp sims, and cab sims. While I know I won't use them all, the versatility was too good to pass up.
Going Amp-less: Other Options I Considered
Before settling on the Zoom B1X Four, I was also considering a few other options for an amp-less setup. I was eyeing the Sansamp Bass Driver DI and its cheaper alternative, the Behringer BDI21. The Darkglass B7K bass pedal/DI and its budget-friendly counterpart, the JOYO Monomyth, were also on my radar.
I've tried software amp sims like Amplitube, NI Guitar Rig, and Guitarix, but they were too cerebral for my taste. Plus, I encountered software issues like weird popping noises and latency that disrupted my playing experience. So, I was looking for a hardware solution that could plug directly into my Mackie USB-audio interface without the hassle.
Why the Zoom B1X Four Was the Right Choice for Me
What sealed the deal for me with the B1X Four was its versatility. Not only does it offer a plethora of effects and simulations, but it also includes sims of the DI pedals I was considering. This made it a one-stop solution for my amp-less setup, eliminating the need for multiple pieces of gear or complicated software.
First Impressions
I've had the pedal for a couple of months now and have been playing around with it almost daily. The build quality is solid even if it is mostly plastic. I also find the and the user interface is intuitive as long as you take the time understanding and reading the manual for each feature.
Features and Performance
The sound quality is where the B1X Four truly shines. Honestly, if I were blindfolded, I wouldn't be able to tell that the effects are digital. I've been dialing in various tones and experimenting with the settings, and I'm genuinely impressed with how authentic everything sounds. As I would say to people all the time, you really need to spend time tweaking and trying out different settings to truly find the sound that you like. But out of the box, the pre-made effect patches are excellent.
Final Thoughts
As someone who plays bass primarily as a hobby these days, the Zoom B1X Four has been a fantastic addition to my setup. It offers a wide range of tones and effects that can suit almost any style, and the sound quality is top-notch. If you're an intermediate player like me, looking to explore and grow, I highly recommend giving this pedal a try.