Noctua Introduces Offset Mounting Solution to Enhance Cooling Performance on AMD AM5 Processors
June 13, 2023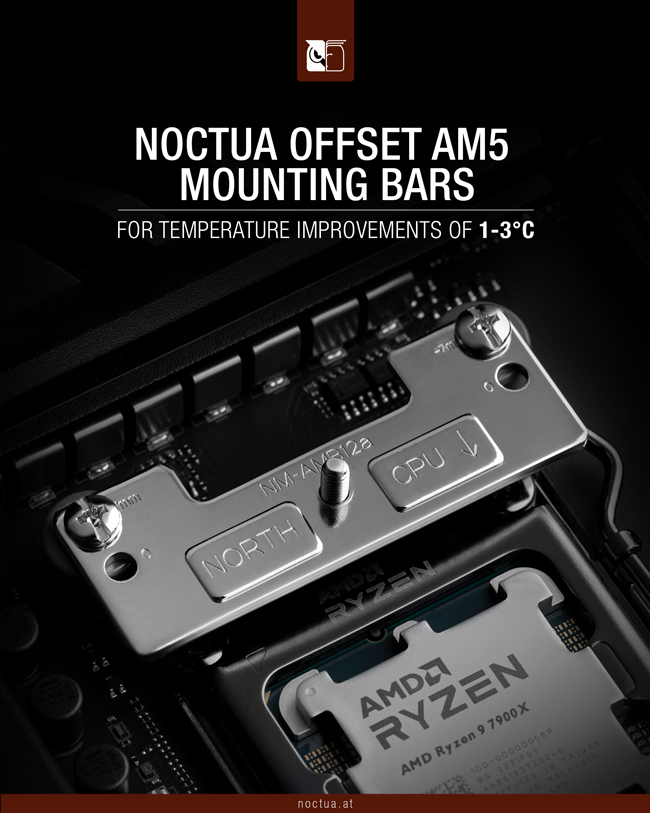 Noctua, a leading manufacturer of CPU coolers, has unveiled its latest innovation: offset mounting bars designed for installing Noctua CPU coolers on AMD AM5 processors. By shifting the heatsink 7mm towards the south side of the socket, the new mounting solution ensures improved contact with the processor's hotspot, resulting in significant reductions in CPU temperatures ranging from 1 to 3 degrees Celsius.
According to Roland Mossig, CEO of Noctua, the company has been experimenting with offset mountings since AMD introduced its chiplet processors, which had the hotspot shifted towards the south side of the socket. Previous attempts on the AM4 platform yielded relatively small temperature improvements in the range of 0.5 to 1 degree Celsius. However, with the new AM5 platform and its different heat-spreader design, Noctua managed to achieve typical improvements of 1 to 3 degrees Celsius. This performance upgrade is expected to be particularly appealing to Ryzen 7000 users.
The latest Ryzen processors from AMD have their Core Complex Die(s) positioned slightly towards the south side of the CPU, making optimal contact with the hotspot created by the CCD(s) critical for thermal performance improvements. While the specific gains may vary due to factors such as heat flux densities, CPU and heatsink tolerances, and thermal paste application, the offset mounting solution consistently offers notable temperature reductions. These benefits can be used to keep the CPU running cooler, achieve higher boost clock frequencies, or reduce fan speeds and noise levels.
Although primarily designed for AM5, the offset mounting bars can also be utilized on AM4, resulting in slight improvements for Ryzen 5000 and 3000 series processors. However, the temperature gains on these CPUs tend to be much smaller, typically less than 1 degree Celsius compared to the 1 to 3 degrees Celsius achievable on AM5.
Noctua offers different sets of offset mounting bars to accommodate various coolers based on their mounting pitch and architecture. The NM-AMB12 and NM-AMB14 are designed for coolers with 83mm mounting pitch and require mounting points north and south of the socket. Conversely, the NM-AMB13 and NM-AMB15 suit coolers with 83mm and 78mm mounting pitch, respectively, and necessitate mounting points east and west of the socket. A comprehensive compatibility list can be found in the FAQ section, and Noctua also offers chromax.black versions of the NM-AMB12 and NM-AMB15 for their chromax.black CPU coolers.
The new offset mounting bars are available for purchase on Noctua's website and Amazon, with a service charge of EUR 3.90 on the website or EUR/USD 4.90 on Amazon to cover shipping and handling costs. The NM-AMB12, NM-AMB14, and NM-AMB15 bars for current cooler models are currently in stock, while the NM-AMB13 bars required for legacy models will be available for ordering within 1-2 weeks.
Furthermore, Noctua is in the process of updating its multi-socket CPU cooler models to include the new offset mounting bars. The availability of these updated models will vary between countries and specific cooler models, with the first coolers featuring the offset mounting bars expected to be released in Q4.