MSI Radeon RX 6600 XT Gaming X review
September 12, 2021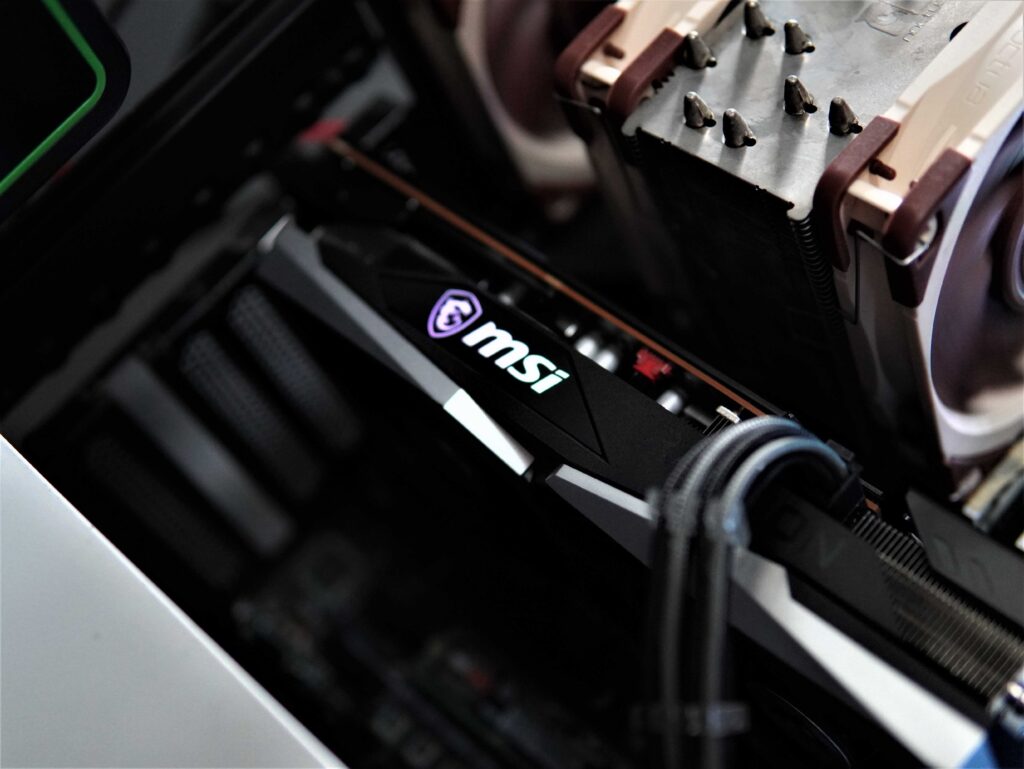 AMD is back in the game, and it no longer has to rely on undercutting its Nvidia GeForce rival's top cards to be competitive. However, we've reached a time in history where almost every GPU that can be made is assumed to be sold for far more than its market value. Regardless of how much AMD and its partners claim that there will be enough silicon to keep sales around this card's stated MSRP, the RX 6600 XT is likely to sell out just as rapidly as all the other GPUs released in the last year, and for similarly expensive prices.
AMD bills its $379 Radeon RX 6600 XT graphics card as "the best 1080p gaming GPU." And I think that's going to be a tough sell. AMD is clearly targeting people who want to attain triple-digit frame rates in competitive shooters at 1080p, especially those who are ready to spend a lot of money to do so. Simply put, it's not a large enough sum to acquire you a much better graphics card.
When your current generation's most affordable GPU is generally designed to target the broadest variety of PC gamers imaginable, that feels like a limited demographic.
However, these are not typical times, and it almost feels like a fool's errand right now to try to use recent history to influence thoughts on freshly announced graphics cards. Talking about ephemeral ideas like a $379 MSRP, especially in comparison to the long-forgotten suggested retail cost of previous cards, does, too. That is something that has long since lost any relevance in the real world.
The Radeon RX 6600 XT, on the other hand, is AMD's current graphics card generation's fifth tier selection, forming the bottom rung of the RDNA 2 GPU ladder. And the fact that it's a near-$400 GPU—when the previous generation's best Radeon card cost that much—says a lot about where the graphics card market is right now.
Radeon RX 6600 XT in a nutshell
The Navi 23 GPU is one of the latest second-gen Navi chips based on the really excellent RDNA 2 architecture, and it's found in the AMD Radeon RX 6600 XT. It's another TSMC N7 (7nm) graphics processor, but it's the tiniest of the current-generation AMD GPUs. Despite its compact size, it has more transistors than the Navi 10 chip in the RX 5700 XT, which is the most powerful of the first generation Navi cards. Lastly, the chip has 32 compute units (CUs) at its core, and the RDNA 2 dual-CU workgroups have a total of 2,048 stream processors.
In terms of GPU frequency, the RX 6600 XT is unquestionably a fast graphics card. The current card's 'game clock,' or the predicted clock speed under gaming conditions, is a dizzying, and oddly exact 2,359MHz. When you compare that to the 1,755MHz of the previous RX 5700 XT, you can see how far AMD has come. Nvidia's Ampere silicon rarely exceeds 2GHz, which is one of the main reasons why AMD has been able to shrink the gap between itself and its competitors' best cards.
When you compare the total board power (TBP) of the RX 6600 XT at 160W vs. the RX 5700 XT at 225W with that ultra high frequency in mind, the efficiency of the RDNA 2 design should be evident. It's worth mentioning that the MSI RX 6600 XT GAMING X card we're looking at can run at an average of 2,655MHz under typical gaming conditions, with a minor overclock bringing it up to 2,750MHz.
MSI Radeon RX 6600 XT GAMING X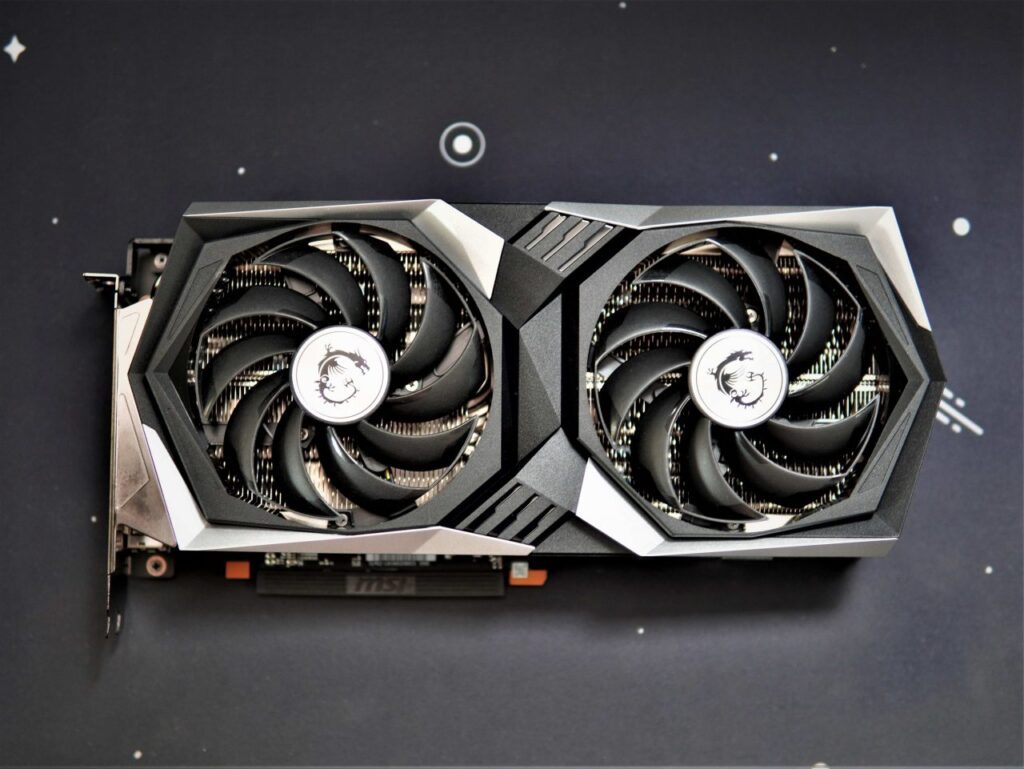 THE MSI RX 6600 XT GAMING X is a dual-fan graphics card with MSI's beefy cooling system with TORX FANs. The card requires a single 8-pin PCIe power connection and it has a total board power of 160w. For display outputs, you get 3x DisplayPorts and 1x HDMI port. RGB lighting is present on the MSI logo on the side of the graphics card which is controllable by MSI's MysticLight RGB software.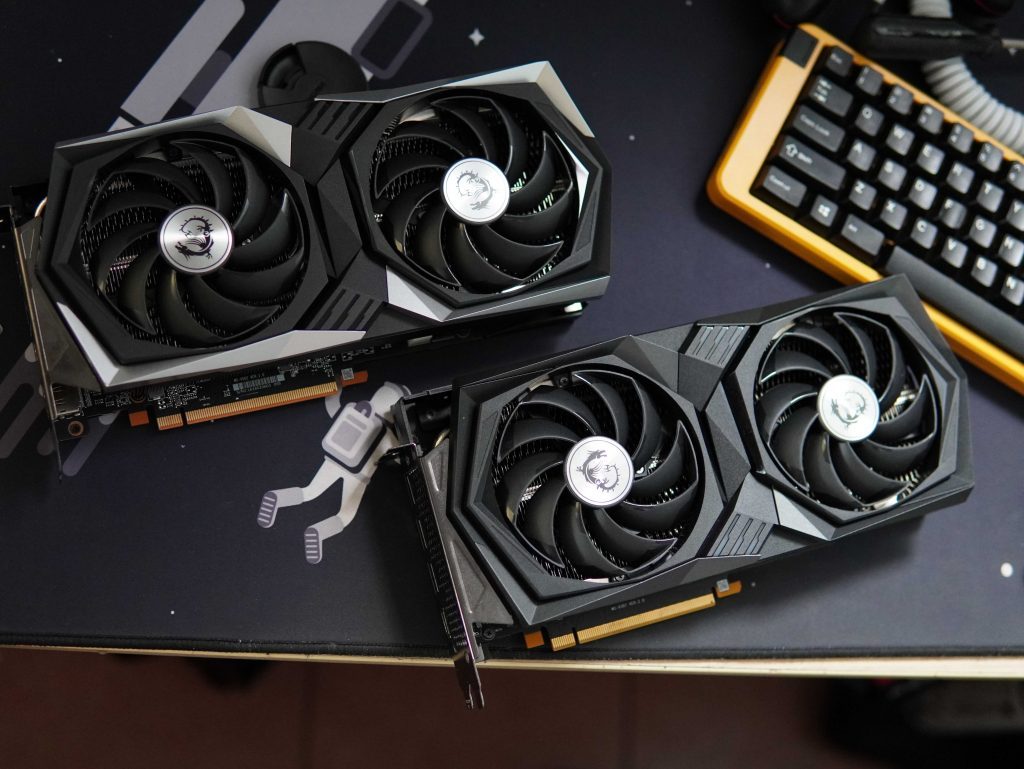 MSI RADEON RX 6600 XT GAMING X SPECS
Boost Clock / Memory Speed
8GB GDDR6 @ 16Gbps
DisplayPort x 3 (v1.4)
HDMI x 1 (Supports 4K@120Hz/8K@60Hz and VRR as specified in HDMI 2.1)
TWIN FROZR 8 Thermal Design
TORX Fan 4.0: A masterpiece of teamwork, fan blades work in pairs to create unprecedented levels of focused air pressure.
Core Pipe: Precision-crafted heat pipes ensure max contact to the GPU and spread heat along the full length of the heatsink.
Airflow Control: Don't sweat it, Airflow Control guides the air to exactly where it needs to be for maximum cooling.
RGB Mystic Light
Mystic Light gives you complete control of the RGB lighting for MSI devices and compatible RGB products.
MSI Center
The exclusive MSI Center software lets you monitor, tweak, and optimize MSI products in real-time.
TEST SYSTEM
Ryzen 9 3900X
2x8GB 3400Mhz DDR4 RAM
MSI X570 Gaming Edge Wifi
Gaming performance
AMD is pitting the 6600 XT against the GeForce RTX 3060, which offers a similar feature set and an MSRP of $329 USD. In contrast, AMD has set an MSRP of $379 USD. The 3060 Ti, on the other hand, will set you back $399. As a result, while being significantly less powerful, the Radeon RX 6600 XT is competitively priced with the 3060 Ti rather than the 3060.
GPU Temperature and Gaming Frequency
So here we'll have a look at GPU temperatures. The IDLE (desktop) temperatures as reported through the software on the thermal sensors of the GPU is within45-50 Degrees C range. Overall anything below 50 Degrees C is considered okay, anything below 40 Degrees C is admirable.
So with the card fully stressed we kept monitoring temperatures and noted down the GPU temperature maxed out at 61 Degrees C as reported by the thermal sensor. We observed what dynamic clock the GPU will choke at after 15 minutes of GPU gaming; the maximum frequencies when the GPU warmed up were 2500-2600 MHz.
Final Thoughts
With its newest Radeon cards, AMD now has a pool of capabilities that, while not quite matching their GeForce counterparts, provide a significant value-add above and above the GPUs' base frame rate levels. FidelityFX Super Resolution is the king of them all (FSR). It's being billed as AMD's answer to DLSS, albeit it's not the same thing. It can help you attain faster frame rates in some games without sacrificing the look of the game.
Though FSR appears to be underrepresented in terms of game support, AMD's promise that it's simple for developers to integrate has been proven by dedicated modders incorporating the functionality into a variety of game titles.
Then there's Radeon Anti-Lag and Radeon Boost, which are both designed to give the smoothest gaming performance in competitive games where milliseconds can mean the difference between life and death. Radeon Boost now includes a variable rate shading boost in select titles.
The Adrenalin driver software, on the other hand, is no longer as difficult to use. The drivers have been steadily improving over time, but now the actual software is joining them. Unfortunately, this enhanced AMD package doesn't change the fact that I might choose a more powerful Nvidia RTX 3060 Ti instead of the AMD RX 6600 XT. It's the faster GPU in terms of raw performance, and then you can add the green team's fantastic feature set on top of that.
This is why the card's price is my main annoyance. It's clearly overpriced at $379 for what it is and what it represents. AMD, on the other hand, has been laser-focused on increasing the average selling price of its components, and the GPU shortage has provided it with abundant chances to do so with its Radeon graphics cards.
There was a real chance here to go after Nvidia and match or surpass the RTX 3060's price, in which case we'd merely mention the RTX 3060 Ti's relative power in passing, rather than emphasizing it. What's more aggravating is that, with few RX 6600 XT cards expected to be sold at MSRP, AMD could have easily plucked a lower price out of thin air and reaped the benefits of the goodwill earned. In comparison to the just slightly more expensive and quicker Nvidia GPU, it appears to be overpriced.
Remember when every generation had fantastic sub-$300 graphics cards? It seems like such a long time ago. With the GPU shortage anticipated to endure at least another year, it appears that we have a long way to go from here. When every higher-priced graphics card is being sold anyway, neither AMD nor Nvidia are likely to dip their toes into that historically high-volume mainstream level.