An external hard drive is a necessity nowadays especially if you are a media/content creator who is always on the go and needs to dump footage right away.
Transcend brings style and functionality together with their StoreJet 25C3S: a sleek external hard drive with an all aluminum case which gives it a modern look.
Specifications
Dimensions (Max.)
114.5 mm x 78.5 mm x 9.95 mm (4.51″ x 3.09″ x 0.39″)
Weight (Max.)
133 g (4.69 oz)
Color
Silver
USB Type
USB Type C to USB Type A/USB Type C to USB Type C
Connection Interface
USB 3.1 Gen 1
Capacity
1 TB/2 TB
Storage Media
2.5″ HDD
The StoreJet 25C3S comes with a USB-C connector which allows it to be used on modern devices, but it also has an included USB-C to USB-A connector in case you need it.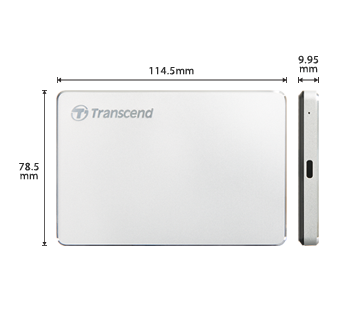 Performance
Our review unit contains a reliable 1TB Seagate ST1000LM035-1RK172 5400rpm 2.5″ HDD with a SATA interface. It has a sustained throughput of 140mb/s according to our disk benchmarks and is more than enough for dumping media files for later use.
I believe Transcend is thinking ahead here when they opted to use a USB-C interface on this external HDD especially now that USB-C is coming to the mainstream market. MacBook owners will find it convenient that they don't need to bring out a dongle adapter when they use the USB-C and for those who are still using USB 3.1 Type-A, the option is still there.
The inclusion of the Seagate 5400rpm hard drive was expected and has been the standard for most portable external hard drives. But I hope that soon we'll start seeing affordable portable hard drives from Transcend with 2.5″ Solid State Drives that will offer more performance and reliability as SSD's are not prone to physical trauma than mechanical hard drives.
Though the aluminum case of the StoreJet 23C3S looks good, the hard drive inside is still prone to physical trauma because of it's mechanical moving parts and the 5400rpm hard drive could use a much faster SSD replacement.
Ira James is an enthusiast who has his roots on PC hardware and gaming. His career as a tech journalist began after working in the PR industry for two years. He started GGWPTech to write PC hardware reviews, gaming, cyber security, and enterprise tech news. His works are also syndicated by other media publishers: Tech Sabado, and the Sunday and Business I.T. section of Manila Times.