The MSI MEG X570 ACE is now available in the Philippines days after the Ryzen 3rd Generation processors hit our stores. As promised, MSI's X570 series will have an overload of features and beefy VRM configuration for a solid overclocking experience.
Being one of MSI's Enthusiast motherboards in the X570 line up, the MEG X570 ACE is a fully featured motherboard that will be able to drive the latest AMD Ryzen processors. We will take a look at how much performance can we squeeze out of the Ryzen 7 3700X using this motherboard through Precision Boost Overdrive enhancements, as well as manual CPU and Memory overclocking.
MSI MEG X570 ACE Quick Specs
Socket
AM4
Chipset
AMD X570
Form Factor
ATX
Voltage Regulator
14 Phases
Video Ports
✗
USB Ports
10Gbps: (1) Type-C, (3) Type A
5Gb/s: (2) Type A; (2) USB 2.0
Network Jacks
2.5GbE, Gigabit Ethernet, (2) Wi-Fi Antenna
Audio Jacks
(5) Analog, (1) Digital Out
Legacy Ports/Jacks
(1) PS/2
Other Ports/Jack
BIOS Flash, CLR_CMOS Buttons
PCIe x16
(3) v3.0 (x16/x0/x4, x8/x8/x4)
PCIe x8
✗
PCIe x4
✗
PCIe x1
(2) v4.0 [1-active (shared)]
CrossFire/SLI
3x / 2x
DIMM slots
(4) DDR4
M.2 slots
(1) PCIe 4.0 x4, (2) PCIe 4.0 x4 / SATA
U.2 Ports
✗
SATA Ports
(4) 6Gb/s
USB Headers
(1) v3.x Gen2, (2) v3.x Gen1, (2) v2.0,
Fan Headers
(7) 4-Pin
Legacy Interfaces
System (Beep-code) Speaker
Other Interfaces
FP-Audio, TPM, (2) ARGB LED, Corsair LED, RGB LED
Diagnostics Panel
Numeric
Internal Button/Switch
Power, Reset, OC / ✗
SATA Controllers
Integrated (0/1/10)
Ethernet Controllers
RTL8125AG PCIe, WGI211AT PCIe
Wi-Fi / Bluetooth
Intel AX200 802.11ax (2.4 Gb/s) / BT 5.0 Combo
USB Controllers
✗
HD Audio Codec
ALC1220
DDL/DTS Connect
✗
Warranty
3 Years
What's in the box?
MEG is short for MSI Enthusiast Gaming and here you can see that the motherboard is packed with enthusiast level features. MSI didn't hold back in their box art, with indication that the motherboard is "AMD RYZEN DESKTOP 3000 READY". Additional info about the motherboard features can also be found on the back of the box.
Here's a list of items that you can find inside the box:
WiFi Antenna
User Manual
promotional materials
MSI Draw Pocket
MSI Case badge
RGB Extension cable
Driver DVD
SATA cable labels
Product Registration card
Rainbow RGB LED Extension cable
Corsair RGB LED Extension cable
four SATA cables
Quick installation guide and user manual.
Aesthetics
The MSI MEG X570 ACE is themed to commemorate AMD's 50th Anniversary sporting the black and gold colors. This ATX-form factor motherboard has a server grade black PCB and gold accents on the heatsinks, plus MSI's RGB Infinity Mirror 2 on top of the I/O cover.
Given that this motherboard is meant for serious overclocking, you will find large VRM heatsinks with a heatpipe that runs directly to the chipset and M.2 drives heatsink, actively cooled by an MSI Frozr fan.
The most notable design feature of this motherboard is MSI's RGB Infinity Mirror 2 located on top of the the rear panel cover. The I/O shield comes preinstalled which is always a nice touch.
On the other hand, the LED Debug is awkwardly positioned right below the SATA ports which can be blocked off my a GPU, front panel USB 3.1 G2 Type-C is available, and we welcome the availability of power/reset buttons.
You will also notice the MSI Boost dial which gives users the option to use the CPU overclocking presets.
Main motherboard features
Other features of the MSI X570 ACE includes an Intel AX200 802.11ax Wi-Fi 6 wifi interface and Realtek RTL8125 2.5 Gigabit NIC. This motherboard also has support for three PCIe 4.0 x4 M.2 drives.
Looking at the diagram below you can see that you cave one PCIe 4.0 M.2 drives connected to the CPU, and two more connected to the X570 chipset.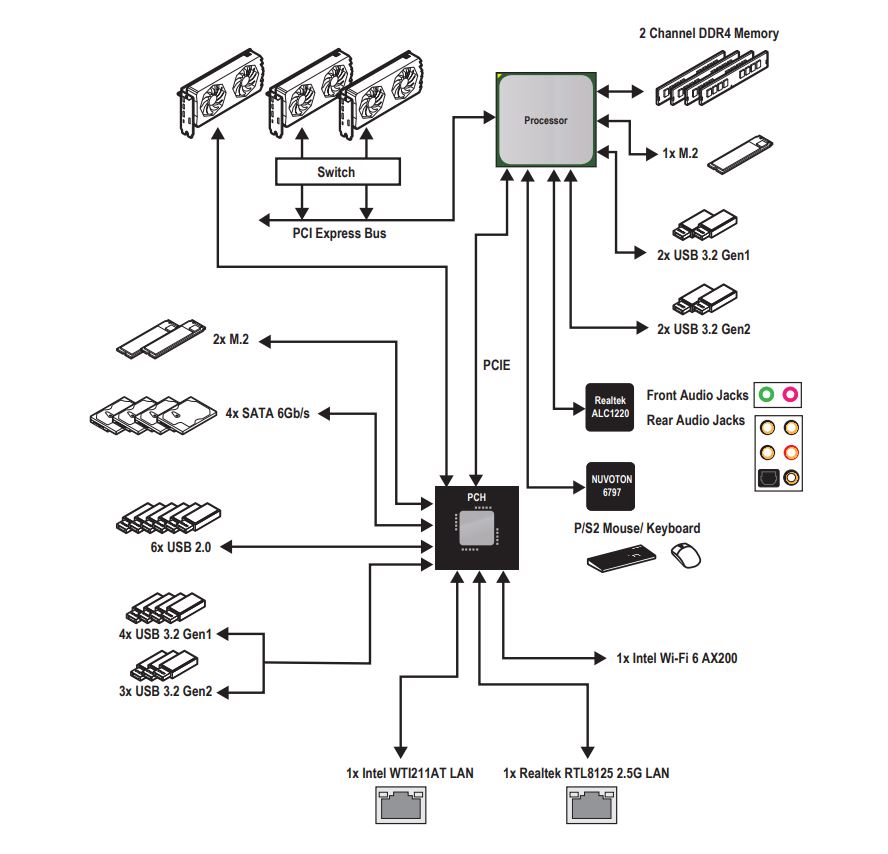 VRM power delivery, overclocking
The MEG X570 ACE has a high-end 12+2 phase configuration using an IR35201 PWM Phase controller paired with an IR3599 Phase doubler. Cooled by two massive heatsinks, the VRM stays cool maxing out at 60°C with the Ryzen 7 3700x overlocked at 4.3Ghz, which is the hard limit OC without LN2 cooling for that particular processor.
Overclocking with the MEG X570 ACE is also a joy as we were able to max out the AMD Ryzen 3700x to 4.3Ghz with 1.37v on the vcore with the CPU being cooled by a Noctua NH-D15. On the memory overclocking side, we were able to push our G.Skill Sniper X 3400mhz 16GB kit to an extreme 4266mhz. This configuration resulted to a Cinebench R20 score of 5156pts on the multi-core and 497pts on single core.
CPU core enhancement performance
Here we will show you how the motherboard's CPU core enhancement modes boosts the clock speeds of our Ryzen 7 3700x compared to other X570 motherboards. We will include Cinebench scores for each core enhancement modes as well.
Test System:
CPU – Ryzen 7 3700x
Cooler – Noctua NH-D15
Memory – G.Skill Sniper X 3400mhz CL16
Graphics – AMD Radeon RX 5700
Motherboards:

MSI MEG X570 ACE
Asus ROG X570-E
Asus ROG Crosshair VIII Hero Wifi
(note that the MEG X570 ACE has four levels of PBO enhancement while the ASUS boards only have three)
Here we can see the Ryzen 7 3700x getting a consistent boost up to 4.274Ghz on both single and multi-core with Precision Boost Overdrive. The MEG X570 ACE feeds the CPU up to 1.39v on the vcore which resulted to lower clocks compared to the ASUS motherboards, which gave higher clocks but are feeding up to 1.432v on the Ryzen chip.
On a personal standpoint, I feel like feeding the CPU voltages beyond 1.4v is somewhat overkill if you're not manually overclocking as I was able to peg all the cores of the Ryzen 7 3700X at 4.3Ghz using only 1.38v.
UEFI BIOS
The BIOS is very intuitive and easy to understand. The EZMode has all the basic information and functionalities such as the Bood device priority, A-XMP and GAME BOOST, M-Flash, and Hardware monitor.
The A-XMP switch lets you select two different XMP profiles that your memory modules can support. The GAME BOOST switch gives an additional boost to the base clock of the processor but we don't recommend using this as it tends to feed too much voltage on the processor.
Advanced mode opens up more options for tweaking the CPU, memory, and deep into other motherboard and AMD settings.
Hardware monitor
You can program different fan curves for your CPU and case fans in the Hardware Monitor page. It also displays useful information such as the voltage fed in different components in the motherboard.
Final Thoughts
If you are looking to overclock your latest AMD Ryzen processor, the MSI MEG X570 ACE is one of the motherboards that I will not hesitate to recommend. It delivered excellent overclocking experience in both CPU and memory thanks to it's 14-phase VRM configuration.
The aesthetics is not too far off from the Intel-based counterpart that we have reviewed before, the MSI MEG Z390 ACE. The X570 model, however, is a much more premium product as the requirements for the X570 chipset are over the top.
Overclocking the Ryzen 7 3700X on this motherboard is pretty straightforward but I would not recommend to use the overclock presets from the board itself as they tend to feed more CPU voltage than needed.
With those in mind, we would like to give the MSI MEG X570 ACE the GGWPTech Silver Award. This motherboard should definitely be considered for it's overclocking capability and high quality components while sitting at a midrange SRP of Php 21,300. It's worth purchasing for your next upgrade.
Ira James is an enthusiast who has his roots on PC hardware and gaming. His career as a tech journalist began after working in the PR industry for two years. He started GGWPTech to write PC hardware reviews, gaming, cyber security, and enterprise tech news. His works are also syndicated by other media publishers: Tech Sabado, and the Sunday and Business I.T. section of Manila Times.